Amazing Amsterdam
There are so many great reasons to visit Amsterdam and it really is a city with something for everyone. The capital of the Netherlands may be compact in comparison with other major European cities, but it packs a lot into a relatively small space.
The Old Center and the Canal Ring are a must for history lovers, as are the world-class museums and galleries. Music fans flock to the city for its clubs and nightlife while its unique coffee shop culture is known all over the world.
If cafes, coffee shops, and bars are of limited appeal, the city also boasts spacious parks, like Vondelpark in the center of the city, and Ooosterpark close to the Eastern Docklands. Amsterdam is popular with shoppers and fashion fans as well as with visitors who come for historic attractions like Anne Frank's House and the scenic canals.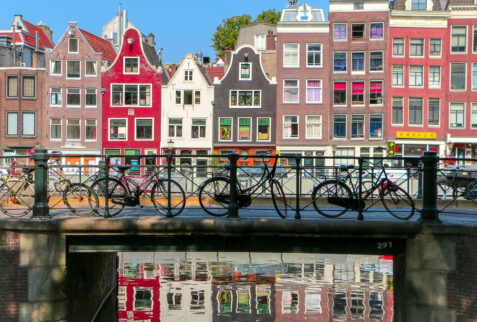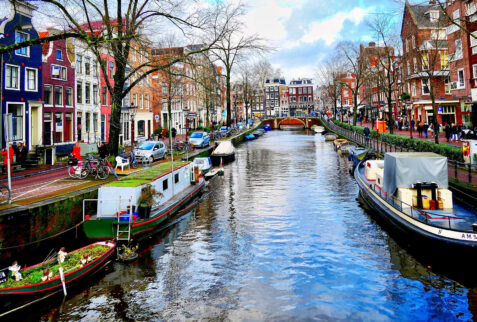 What to do in Amsterdam
1. Cycle Through the City
Bicycles can be hired from rental points all over the city. Cycle along the banks of the Prinsengracht or Herengracht on a sunny day with the locals.
2. Try Dutch beer
A visit to one of the famous 'brown bars' is essential. Beer fans can sample refreshing beer by the glass while non-drinkers can simply chat with locals over coffee.
3. See a Masterpiece
Nobody should pass up the chance to see world-famous paintings by the masters at either the Van Gogh Museum or the Rijksmuseum.
4. Take a Canal Boat Trip
There's no better way to see Amsterdam than from one of the famous glass-roofed boats. Once the trip is over, head to one of the famous white bridges for superb views over the canals. The 300-year-old Magere Brug is a great example.
5. See a Windmill
There are just eight windmills in Amsterdam including the De Gooyer windmill, which is now a brewery and partially open to visitors. The only windmill that is completely open to visitors is the Molen van Sloten windmill in the west of Amsterdam.