Spritual Vrindavan and Mathura
The town of Vrindavan is where the young Krishna is said to have grown up. Pilgrims flock here from all over India and, as it's the centre of the Hare Krishna community, from all over the world. Dozens of temples, old and modern, dot the interesting backstreets and come in all shapes and sizes, making a visit here more than just your average temple-hop.
Top Attractions in Vrindavan and Mathura
Prem Mandir
Prem Mandir (lit. The Temple of Love) is a Hindu temple in Vrindavan, Mathura, Uttar Pradesh, India. It is maintained by Jagadguru Kripalu Parishat, an international non-profit, educational, spiritual, a charitable trust. The complex is on a 55-acre site on the outskirts of Vrindavan. It is dedicated to Radha Krishna and Sita Ram. Radha Krishna is on the first level and Sita Ram is on the second level. The temple structure was established by the fifth Jagadguru, Kripalu Maharaj. Figures of Shri Krishna and his followers depicting important events surrounding the Lord's existence cover the main temple.
Construction began in January 2001[3] and the inauguration ceremony took place from 15 to 17 February 2012.[4] The temple was opened to the public on 17 February. The cost was 150 crore rupees ($23 million).[5] The presiding deities are Shri Radha Govind (Radha Krishna) and Shri Sita Ram. A 73,000 square feet, pillar-less, dome-shaped Satsang hall is being constructed next to Prem Mandir, which will accommodate 25,000 people at a time.[6] Surrounded by beautiful gardens and fountains, the temple complex has life-size depictions of four leelas of Shri Krishna – Jhulan Leela, Govardhan Leela, Raas Leela, and Kaliya Naag Leela.
Krishna Balaram Temple Complex
The International Society for Krishna Consciousness (www.iskcon.org), also known as the Hare Krishnas, is based at the Krishna Balaram temple complex. Accessed through a beautiful, white marble gate, the temple houses the tomb of Swami Prabhupada (1896–1977), the founder of the Hare Krishna organization.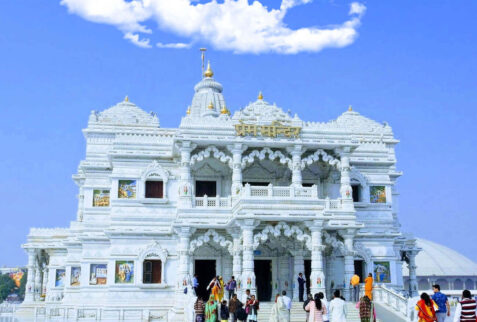 Inside, the temple is a whirl of activity, filled with devotees prostrating themselves in prayer, playing drums, chanting and consulting with priests. Several hundred foreigners attend courses and seminars here annually.
Rangaji Temple
The largest temple in Vrindavan is dedicated to the god Vishnu (of whom Krishna was an avatar). It's built in a South Indian Dravidian style, and from the outside looks more like a fortress than a temple. In summer, a half-hour aarti (prayer ceremony) is performed at 5.30 am and 6.30 pm; in winter, aarti timings are 6 am and 6 pm.
Nidhivan Temple
Surrounded by an orchard filled with twisted tulsi (holy basil) trees that are decorated with votive threads and red powder, it's believed that Krishna visits this temple every night to perform a sacred dance.
Pagal Baba Temple
This 10-storey white marble temple, a fairy-tale-castle lookalike, has an endearingly amateurish collection of animated puppets and dioramas on the ground floor, depicting scenes from the lives of Rama and Krishna.